Careers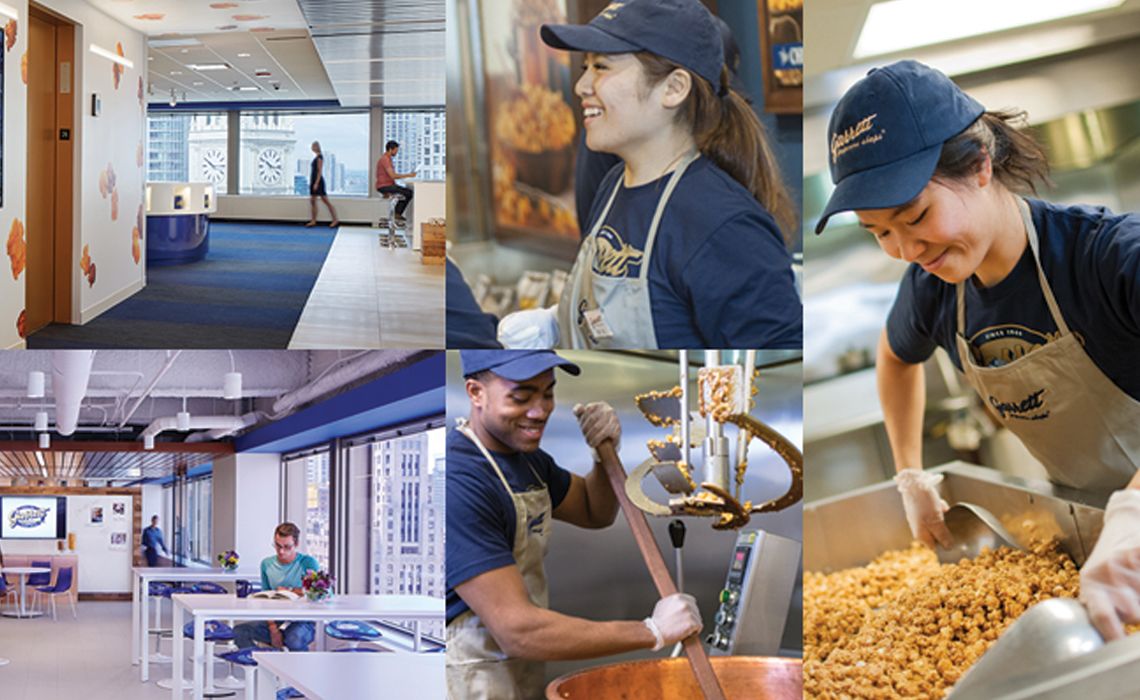 Thank you for your interest in joining the Garrett Popcorn Shops® Team. Whether you enjoy working in front of guests or behind the scenes, Garrett Popcorn Shops® provides a great opportunity to be part of a rich tradition of great tasting popcorn, of passionate customers and of a growing company. We are pleased to offer flexible schedules and competitive pay with benefits. We are committed to our team, to creating an unparalleled customer experience and to developing shop leadership from within.
Right now, we have full and part time opportunities in our famous shops in Chicago, New York (at Penn Station), Las Vegas (in Miracle Mile Shops), Detroit (in Twelve Oaks Mall), Atlanta (in Lenox Square Mall) and internationally. We look forward to hearing from you! At Garrett Popcorn Shops®, we strive to create an inclusive environment that reflects our diverse and global customers.
---
INTERESTED IN JOINING THE GARRETT® FAMILY?
For corporate career opportunities please contact: [email protected]
For job opportunities in a shop please contact: [email protected]
---
Manager, Intellectual Property and Strategy - Research and analyze the intellectual property law, food safety law, corporate law and business of foreign countries and their impact on the ability to obtain IP and new territory expansion. Develop and execute the global IP portfolio protection strategy. Partner with foreign counsel to prepare and file trademark, foreign investment, food operation and import/export licenses. Develop, manage and execute the approach and strategy on new market and/or existing market entry/set-up across all functional areas including operations, finance and marketing. Assess new / existing market position by evaluating competitive set including the evaluation on offerings, size, price point, customer demographic and location. Evaluate differentiating legal and financial structures that the Company has the ability to pursue in new and existing markets including partnerships and joint ventures. Negotiate agreements with key suppliers domestic and international to ensure the most effective contract terms are being established. Execute and manage company's global contract management process and repository. Review and provide feedback on supplier contracts. Salary: $66,518/year.
Requirements - Juris Doctor degree and 1 year of experience in the job offered or 1 year of experience with intellectual property and strategy in the food industry. Also acceptable: Master of Laws degree and 1 year of experience with intellectual property and strategy in the food industry. Special skills - 1 year of experience in domestic and international law and business in Asian markets; 1 year of experience drafting legal documents for both domestic and international markets; and 1 year of experience developing and executing domestic and international business strategies, foreign and direct investment, new market entry and set up in compliance with local regulations.
Employer and worksite location: Garrett Brands LLC, 401 N. Michigan Ave., Suite 2400, Chicago, IL 60611.
Send CV and cover letter to:
Kara Nickels
Vice President of Human Resources
Garrett Brands LLC
401 N. Michigan Ave.
Suite 2400
Chicago, IL 60611