Corporate Holiday Gifting
Concierge / Hands-On Service
Send the gift of Garrett to your clients and employees this holiday. We have a dedicated team standing by to assist you with orders for larger gift lists. We help you understand all the options available and make this the easiest item on your "to do" list.
Call 888-476-7267 and select option #1 then option #2. Send us an email here. Looking for inspiration? Let us point you in the best direction with holiday favorites from our corporate customers: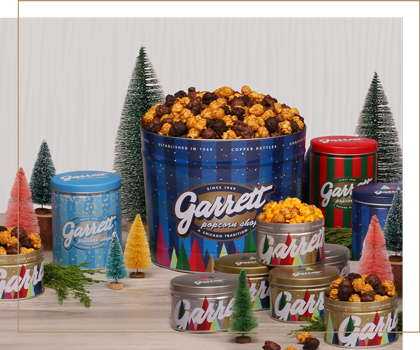 Multi-Recipient Gifting
Garrett can ship to any number of addresses across the US as part of a single order. Send us your list! We can place the order for you with a simple upload of all your addresses at once.
Schedule Your Shipping Date
We offer clients the flexibility in choosing a shipping date up to 28 days from the order date. Please keep in mind limited time offers and recipes may not be available to ship beyond the promotional window.
Budget
With a variety of Garrett and Frango options to choose from, our team can help you select the perfect gift(s) within your budget and create a quote with your final selections before you purchase.
---
Personalize Your Order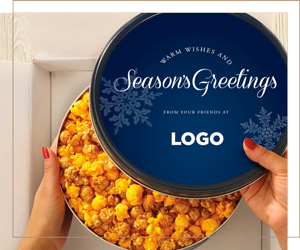 Custom Lid Decals
Make your holiday gift unforgettable with a custom lid decal featuring your favorite image or company's logo. Additional charges and minimum quantities apply.
Bag Customization
Each of our event bag sizes can be personalized with a message or logo, starting at $0.50 a bag.
Full Custom Tin Designs
Starting from scratch, we can design an entire tin with you for an entirely unique gifting option. Contact one of our sales team members to discuss lead times and order minimums.
---
Policies | At A Glance
Order Lead Times: Most orders can be completed within 3 business days. All orders are cooked and packed the day we ship.
Payment Options: Contact us if you'd like to discuss additional payment options available for your business.
Custom Orders: We have minimum order quantities for all custom packaging options. Please note these options may require additional lead time.