Press and Media
UPDATES
---
CHICAGO – MAY 1, 2020
THE LATEST WITH GARRETT POPCORN
Dear Fans,
As we all continue to hunker down through the month of May, we have been working hard to make sure everyone can still enjoy their favorite recipes and stay up to date with us. We have created this COVID-19 page so you can follow along with us as we continue to navigate this new normal together.
The team is currently…
We are so grateful to our fans whose love for our recipes have kept us going. We have been through a lot these 70 years—and we will get through this too! Thank you for your continued support and understanding!
Best,
The Garrett Popcorn Shops Team
Back to top
---
CHICAGO – APRIL 13, 2020
NEW! PARADE PACK
What's the story behind the Parade Pack? Read more to learn how 70 years with our fans inspired us to try a little something different. Send us an email and let us know what you think!
We take pride in being a part of so many milestones and celebrations with our fans – from graduations, weddings, and holidays, to participating in iconic Chicago parades for nearly a generation. While our celebrations have changed during this extended time at home, our passion for staying connected with our fans has not. That's why we started thinking about more ways to bring our fans the same Garrett they know and love.
During parades, we hand out snack-size bags of Chicago's iconic Garrett Mix, which we're able to cook in our Chicago kitchen.
For a limited time, you can now purchase these same Garrett Mix snack-size bags – offered in a "Parade Pack," box of 12 snack-size bags (2.2oz a bag). This is the same Garrett Mix® recipe, handcrafted by our wonderful cooks every day of the week, without preservatives. The only difference is the packaging. We can seal our snack-size bags for freshness that, when unopened, will last longer in your pantry.
While we can't be together right now, we hope this is another way to stay connected – even during a parade or picnic at home.
Happy snacking!
–Your friends at Garrett Popcorn Shops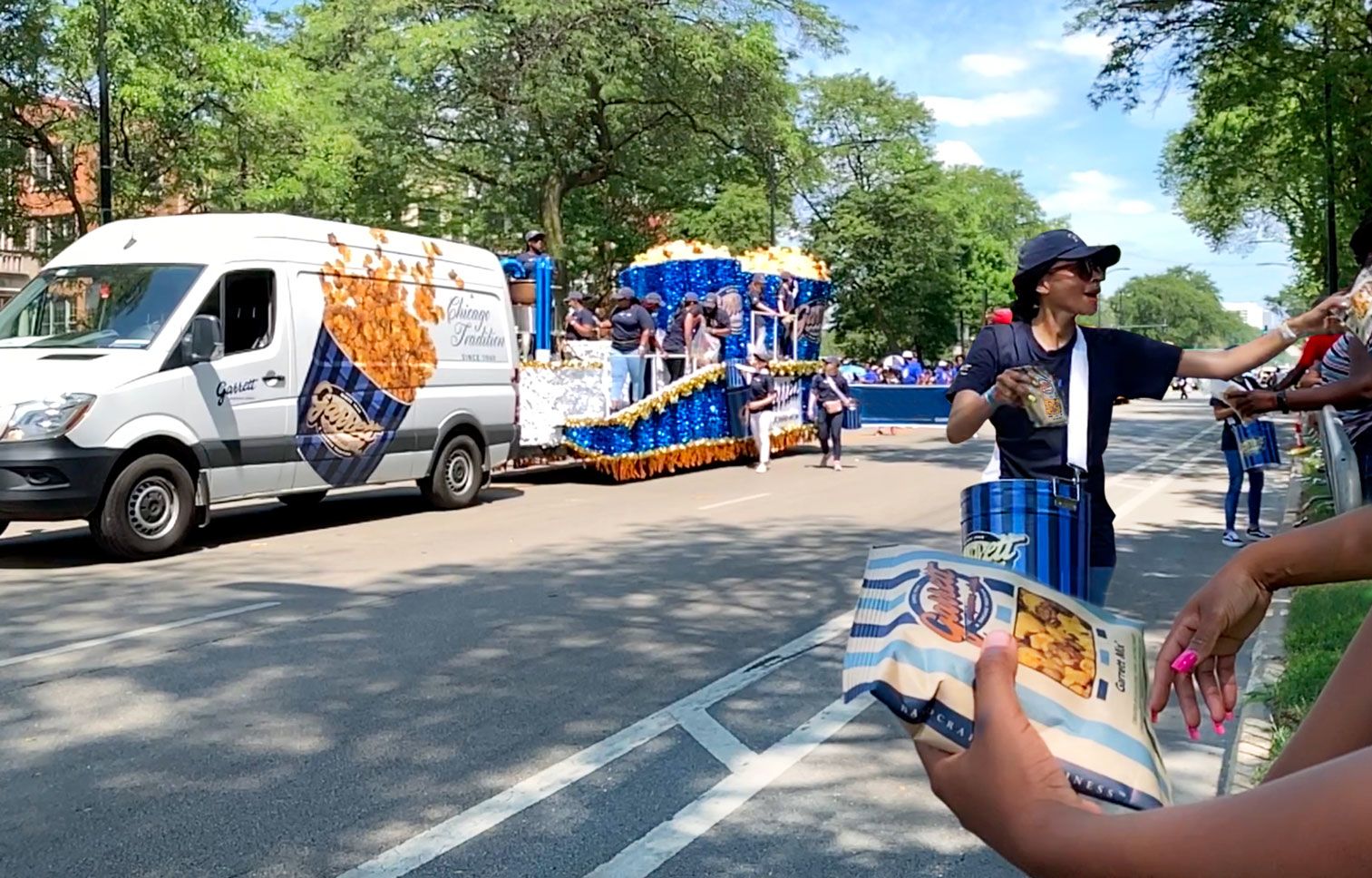 Back to top
---
CHICAGO – MARCH 31, 2020
THE POWER OF THANKS
Garrett recently sent an email that was well-received by many of our customers, and we wanted to share it with you as well (see image below).
We're humbled and thankful when companies choose to send Garrett Popcorn to their team members and partners as a simple show of appreciation and support during a challenging time for us all.
If you are interested in sending Garrett to your team members or partners, we suggest the fan-favorite Garrett Mix, or you can learn more by contacting Misty here.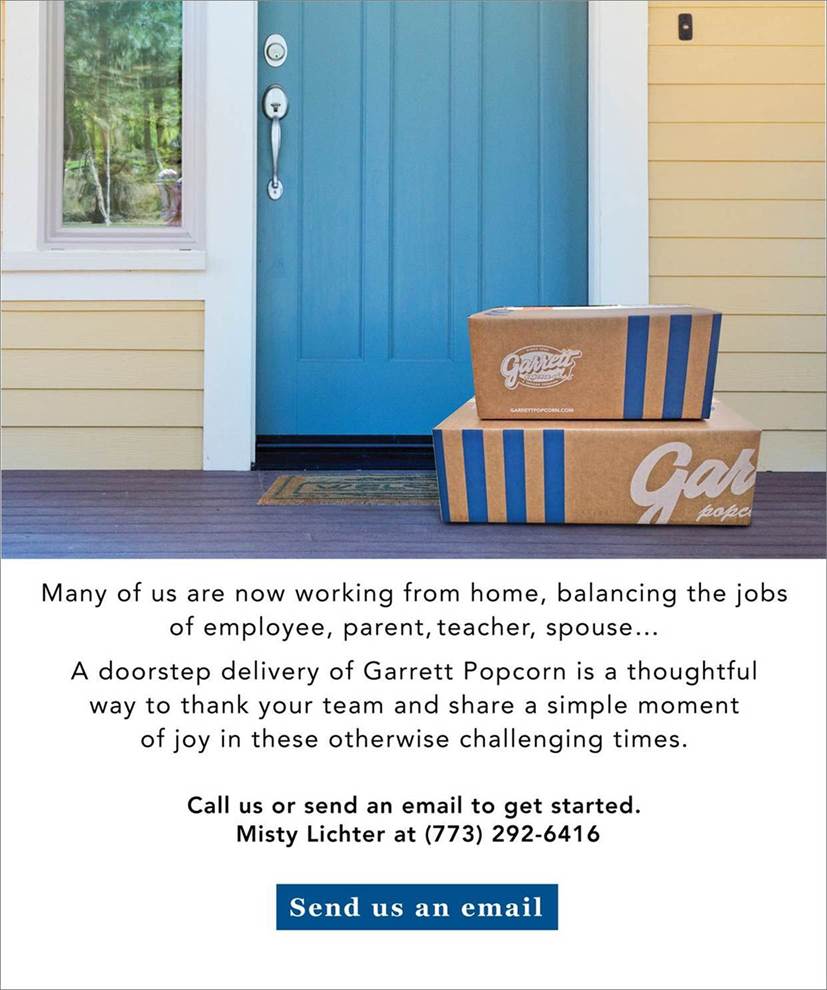 Back to top
---
CHICAGO – MARCH 17, 2020
DEAR GARRETT FAN,
Since Garrett Popcorn Shops prides itself on being a good neighbor and an active member in the communities we serve, we have made a few important changes to how we operate. As you know, Garrett has been a Chicago staple for more than 70 years. In that time, we've learned a thing or two about how to manage through the challenging times and keep our communities feeling connected and safe.
We want to take a moment to assure you that we continue to uphold the highest standards of cleanliness and sanitation and we continue to be in contact with the appropriate local and federal agencies to ensure we are incorporating the latest information and guidance into our service.
We are also improving the opportunity for social distancing while getting your Garrett Popcorn by…
…introducing "Skip the Line" so you can call ahead and pick-up your order in Shop by calling 888-4POPCORN (888-476-7267)*
…extending the availability of Postmates delivery and in-Shop pick-up
…introducing $5 ground shipping for items ordered at garrettpopcorn.com, so you can receive Garrett Popcorn at your doorstep
Here are some of the important things we are doing in our Shops and Shop kitchens as well as in our kitchen that cooks for your online orders.
We are…
…reducing high-touch contact areas by pausing tray sampling in and around our Shops (but we'll still give you a personal one if you ask).
…increasing the frequency of our daily cleaning practices.…closely monitoring information from the Center for Disease Control (CDC) and World Health Organization (WHO).
Your health and safety are at the center of all we do, every day. We're doing our part. Please do yours by taking care of your health and that of your fellow neighbors.
Thank you for being a loyal fan and for supporting the team at Garrett Popcorn Shops. Our team members are the backbone, spirit and energy of our legacy. We thank them daily for all they do to safely serve our communities with a smile.
With my best wishes,


Lance Chody
CEO
Back to top
FREQUENTLY ASKED QUESTIONS
---
ARE YOUR SHIPMENTS BEING IMPACTED BY COVID-19?
Maybe. We ship via UPS, and UPS has suspended their service guarantee and commitment times. Below is their statement, directly from UPS. More information is available on the UPS site at https://www.ups.com/us/en/service-alerts.page?id=alert1
From UPS, published on March 24, 2020: Suspension of Service Guarantee Effective March 26, 2020 and until further notice, we have suspended the UPS Service Guarantee for all shipments from any origin to any destination. For all U.S. origin shipments, the Service Guarantee suspension became effective as of March 24, 2020.
Back to top
CAN YOU GUARANTEE DELIVERY BY A CERTAIN DAY OR TIME?
No. We ship via UPS, and UPS has changed their service guarantee and commitment times. Below is their statement, directly from UPS. More information is also available on the UPS site at https://www.ups.com/us/en/service-alerts.page?id=alert1
From UPS, published on March 30, 2020: Changes to Commitment Times Commitment times for UPS Next Day Air Saver(r) and UPS 2nd Day Air A.M.(r) services scheduled for delivery on or after March 30, 2020 will be extended to end-of-day until further notice.
Back to top
WHEN WILL SHOPS REOPEN?
We recently opened our drive-thru at 87th and S Cottage Grove in Chicago, IL. See our new pre-order online options. We will provide updates about additional shop re-openings here.
Back to top
CAN I STILL PLACE AN ORDER ONLINE?
You are welcome to order online. We will continue to fulfill orders as we are able to.
Back to top
Is your kitchen taking extra precautions so we don't get sick?
We cook each and every day, so we're used to keeping things clean! We have a GMP certified kitchen. (GMP is "Good Manufacturing Practice" and has a host of requirements) We always take health and sanitation very seriously and adhere to both federal and local requirements & guidelines, including hand washing, protective glove procedures, and cleaning and sanitizing.
Back to top
WHAT IS THE STATUS OF MY APPLICATION FOR A JOB IN YOUR SHOPS?
At this time Garrett Popcorn Shops has paused all hiring and onboarding for all shop locations. We will reevaluate our hiring needs once business operations normalize. Thank you for your continued interest and we hope to be in touch soon!
Back to top
HOW ARE YOU MONITORING THE PANDEMIC IN THE UNITED STATES AND ABROAD?
We are in contact with state and local officials, and we are closely monitoring information from the CDC, so that we can be as prepared and as up to date as possible on the latest information and guidelines. The health and safety of our fans, our team members, and the people in our communities is paramount. We will continue to provide updates on our Announcements page. Thank you to our fans and our team. Please stay healthy and safe. We look forward to seeing you again soon.
Back to top
PRESS & MEDIA
---
For Press and Media inquiries, please contact: [email protected]
For International Business inquiries, please fill out our Contact Us form
---

MACY'S, INC. SELLS OWNERSHIP OF FRANGO TO GARRETT BRANDS
Brands Legacy Aligns with Purchaser's Growth Strategy
CINCINNATI and CHICAGO – January 30, 2017 – Macy's, Inc., one of the nation's premier retailers, and Garrett Brands, owner of Garrett Popcorn Shops, today announced that they have entered an agreement by which Garrett Brands will acquire Frango®; a distinguished, premium chocolate brand, from Macy's, Inc.
As the owner of Frango, Garrett Brands will develop, create, sell and distribute Frango products consistent with the brand's legacy as a superior chocolate and confectionary brand. Macy's, Inc. will continue to sell Frango products in the Frango Café at Macy's State Street store in Chicago, at more than 350 additional Macy's store locations in the United States, and online at macys.com. The Chicago and Seattle markets hold the greatest brand history, dating back to 1918, but over the years, the Frango business and awareness has grown to many other states through Macy's, Inc. distribution and stewardship.
"Frango is a perfect fit for our company's portfolio, aligning well with our strategy to preserve and grow iconic brands that have historic franchise value with a unique and storied past," said Lance Chody, owner and CEO of Garrett Brands. "This is an exciting opportunity to expand the reach and offerings of the delicious Frango confections consumers know and love to more people in more places, just as we have done with our other brands."
Maneesha Khandelwal, senior vice president of Garrett Brands, added, "We are committed to preserving Frango's highest standards of taste and quality, and its heritage in Chicago and Seattle as key pillars of building on the brand's identity."
"We are happy to have found such a natural partner in Garrett Brands and are confident they will be great stewards of the Frango brand," said Tim Baxter, chief merchandising officer at Macy's, Inc. "We will continue to offer Macy's customers the Frango products they love online and at Macy's stores in Chicago, Seattle and across the country. And, given Garrett Brands' history of thoughtfully growing brands, we are confident that this partnership will introduce new customers to premium Frango chocolates."
ABOUT GARRETT BRANDS LLC
Garrett Brands LLC is privately held and operated by Lance Chody and his family. The company owns Garrett Popcorn Shops®; and has corporate offices in Chicago and Hong Kong. Garrett Popcorn Shops®; offer handcrafted, artisanal popcorn in nine countries and on the garrettpopcorn.com website. Since 1949, the company has established itself with Sweet and Savory confectionary flavors, including the combination of its CaramelCrisp®; and CheeseCorn recipes famously born in Chicago and known as Garrett Mix®. The company's other flavors include chocolate offerings and country-specific recipes.
ABOUT FRANGO
Frango®; is a premium chocolate brand with an iconic history rooted in Chicago and Seattle, dating back to 1918. Frango's delicious chocolate collections – including its core flavor products, original Chicago recipes and Frederick & Nelson recipes – have served as thoughtful gifts for decades, bringing joy to consumers around their most special occasions. Originally developed by Seattle's Frederick & Nelson department store, Frango was introduced to the Chicago market when Marshall Field's acquired Frederick & Nelson. Since taking ownership of Frango through its merger with Marshall Field's, Macy's has preserved Frango's beloved tradition in Chicago and Seattle, and has expanded the Frango legacy through broad online distribution on macys.com.
Back to top